The Cookie Party
Willits Weekly's Holiday Celebration
Friday, December 15 from 5 to 7 pm
at Scoops Frozen Yogurt & Deli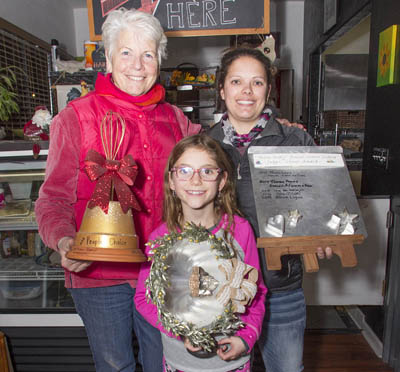 2017 Cookie Party winners smile with their trophies, including Tam Adams, back left, winner of the Peoples Choice award for her Tom's Crack Bars, Alicia Logan, back right, winner of the Judges Choice award for her Ooey Gooey Rocky Road Cookies, and Abigail Sherf, who won the first-ever award for Prettiest Cookie for her Chocolate Chip Cookies.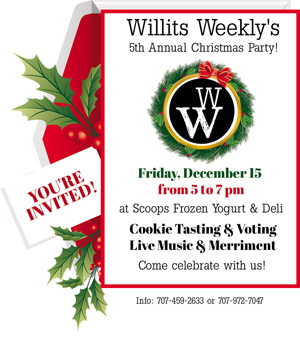 Get ready to bake! Get ready to taste!
Enter as a business, or as an individual, or come just taste and vote
FOR FREE!
Download the entry form!
Three awards: Judge's Choice, People's Choice and NEW this year: Best decorated! Each winning entry will have their baker's name written on the perpetual trophy and earn them bragging rights for the rest of the year.
All bakers should be there for setup by 4:30 pm. We are suggesting a quantity of 5 to 6 dozen bite-sized pieces. Does not have to be cookies; sweets of all kinds are accepted.

Official judges tasting will be done blind at the beginning of the event. Please have five excellent specimens of your entry or entries set aside for delivery to the official judges.

Peoples votes will be counted at the end of the night. Varieties will be showcased on the tables, so there will be only small areas of display space per entry. Feel free to bring decor if desired. We will provide numbers to go alongside your entries and will have index cards also available to describe your entry, or feel free to create your own signage to place near entries.

Winners will be announced at the end of the night. Any questions, please email or call 707-972-7047.

We hope to see you there!